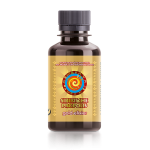 Buy
Food Supplement Siberian Propolis Gold Elixir, 150 ml
# 400521 150 ml
An elixir with a highly active propolis emulsion for Improving both mental and physical vitality and health.
Herbal syrup with high-potency propolis emulsion helps to maintain wellness and increase work capacity, both mental and physical. Its formula was designed according to the ancient Siberian recipes and enriched with rare wild herbs from the Altay Mountains. Enjoy peculiar taste and scent of Siberian taiga!
Recommended use
Adults take 1 teaspoon 1-3 times a day. Shake well before use.
Propolis, honey, maral root extract, eyebright herb extract, goat's-head extract, astragalus root extract, meadow clover flowers extract, hawthorn fruits extract, calendula flowers extract, water.
100 ml contain:
| | |
| --- | --- |
| Water | 88.0 ml |
| Honey | 4.0 ml |
| Propolis | 3.0 ml |
| Maral root extract | 1.5 ml |
| Eyebright extract | 1.0 ml |
| Puncturevine extract | 0.9 ml |
| Marigold flower extract | 0.4 ml |
| Red clover extract | 0.4 ml |
| Astragalus root extract | 0.4 ml |
| Hawthorn fruit extract | 0.4 ml |