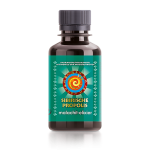 Buy
Food Supplement Siberian Propolis Malachite Elixir, 150 ml
# 400522 150 ml
Propolis Herbinfusion Malachite Beautytonic
Herbal Syrup with highly potent propolis emulsion extracted from pure propolis of the Altay Mountains. It is composed on the basis of ancient Siberian recipes and enriched with wild Siberian herbs extracts. It possesses all valuable properties of propolis, and due to its botanical ingredients, it perfectly supports female wellbeing and beauty.
Recommended use
Adults take 1 teaspoon 1-3 times a day. Shake well before use.
Propolis, honey, shepherd's purse herb extract, motherwort root extract, sage herb extract, licorice root extract, chamomile herb extract, foxberry fruits extract, angelica root extract, water.
100 ml contain:
| | |
| --- | --- |
| Water | 90.0 ml |
| Honey | 4.0 ml |
| Propolis | 3.0 ml |
| Motherwort extract | 0.6 ml |
| Angelica root extract | 0.6 ml |
| Shepherd's purse extract | 0.6 ml |
| Sage extract | 0.3 ml |
| Licorice root extract | 0.3 ml |
| Lingonberry leaf extract | 0.3 ml |
| Chamomile extract | 0.3 ml |