Home
→ Siberian Super Natural Sport. Multicomponent hi-grade protein, 450 g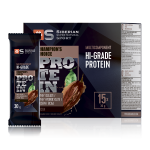 Buy
Siberian Super Natural Sport. Multicomponent hi-grade protein, 450 g
# 500466 450 g (15 servings х 30 g)
Multicomponent Hi-Grade Protein consists of high-quality proteins with different digestion time: protein hydrolysate and amino acids (BCAA), whey protein and casein. The product is packed with one of the most popular ingredients among sports fans that increase energy levels thanks to which it will ideally suit not only professional athletes but also beginners. Protein ensures muscle gains and healthy bones. 0% of artificial flavors and thickeners, 0% of fillers, 0% of vegetable protein.
Recommended use
Mix 300 ml of skim milk (or 150 ml of 1.5% milk + 150 ml of water) and 1 package content. Serve in 2-3 minutes after mixing. Use as a one meal replacement. Note: if you prefer a thicker consistency, add less milk by preference.
Milk protein concentrate, cocoa powder, whey protein hydrolysate, whey protein isolate, BCAA complex, sweetener: steviol glycosides.
| | |
| --- | --- |
| Ingredients | Amount per serving (30 g) |
| Milk protein concentrate | 24.1 g |
| Cocoa powder | 2.25 g |
| Whey protein hydrolyzate | 1.2 g |
| BCAA amino acids complex | 1.2 g |
| Whey protein isolate | 1.2 g |
| Sweetener: steviol glycosides | 0.05 g |