Home
→ Siberian Super Natural Sport. Omega-3 Ultra, 120 capsules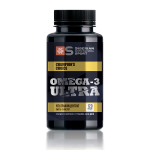 Buy
Siberian Super Natural Sport. Omega-3 Ultra, 120 capsules
# 500484 120 capsules
The complex is fortified with omega-3 acids as concentrated ethyl esters of EPA and DHA, which contribute to the normal heart function and provide beneficial effect upon daily intake in a dosage of 250 mg. Vitamin E helps to protect cells against oxidative stress.
Recommended use
Adults take 4 capsules daily with food on a regular basis.
PronovaPure™, the ultra-concentrate of omega-3 polyunsaturated fatty acids extracted from deep sea fish.
| | | |
| --- | --- | --- |
| Ingredients | 4 capsules contain, mg | Daily Value |
| PronovaPure™, the ultra-concentrate of omega-3 polyunsaturated fatty acids extracted from deep sea fish | 2440 | |
| Docosahexaenoic Acid | 520 | |
| Eicosapentaenoic Acid | 1316 | |
| Vitamin Е | 14.6 | 122% |
| Gelatin capsule | 960 | |